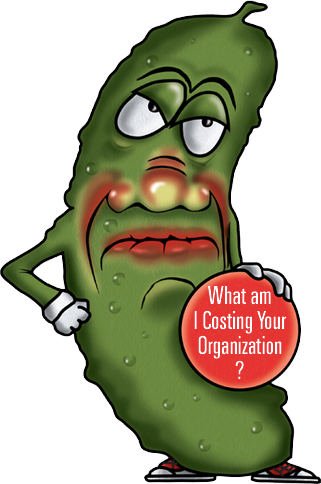 THE PICKLE CHALLENGE
A Positive Way
to Eliminate Negative
Behaviors & Build a Stronger
Culture of Ownership
THE PICKLE CHALLENGE
A Positive Way
to Eliminate Negative
Behaviors & Build a Stronger
Culture of Ownership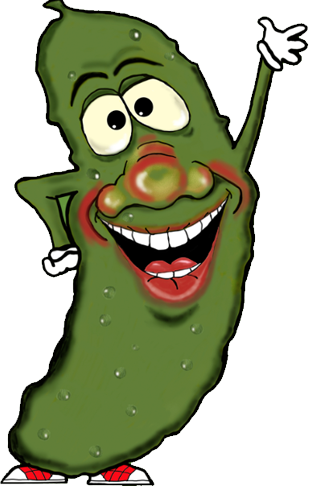 THE PICKLE CHALLENGE 2019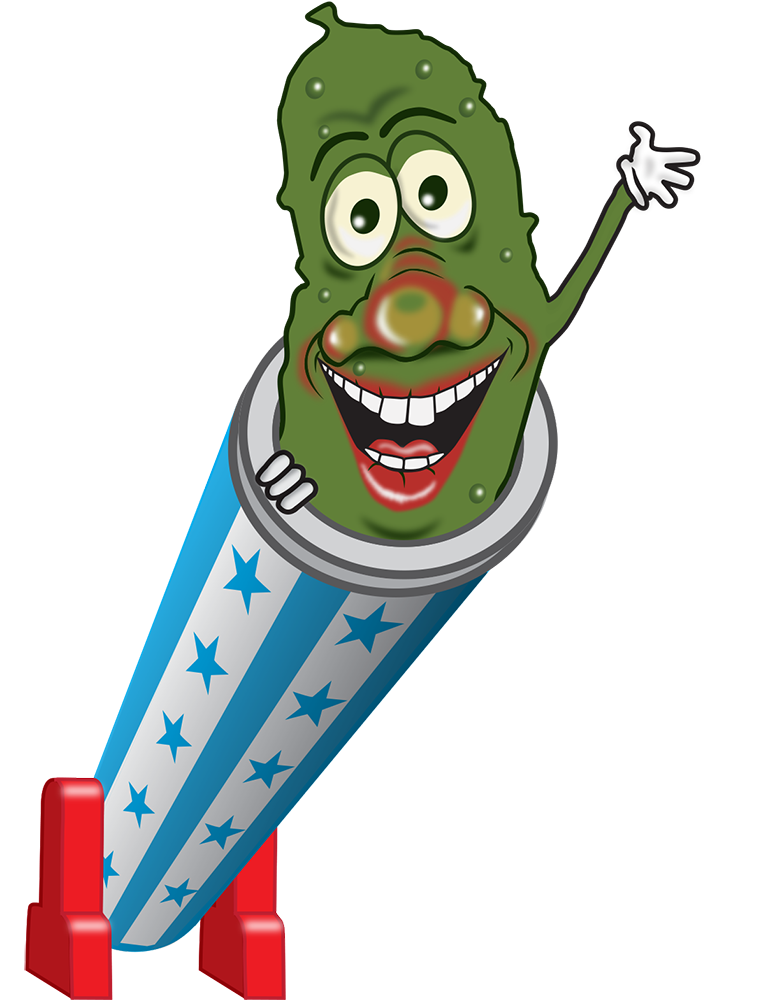 Toxic emotional negativity (TEN) hurts every dimension of your organization, including employee morale and engagement, quality and safety, patient satisfaction, productivity and financial performance.
Join The Pickle Challenge 2019 for a clear-eyed assessment of where you stand now and a proven intervention to eradicate TEN by raising awareness of and intolerance for bullying, disrespect and incivility, gossip and rumor-mongering, and chronic whining and complaining.
JOIN THE MOVEMENT FOR A MORE POSITIVE HEALTHCARE CULTURE!
organizations have taken The Pickle Challenge
,
raised for charities selected by participating organizations
,
complaints transformed into contributions
CREATE A MORE POSITIVE CULTURE ONE ATTITUDE AT A TIME BY TURNING COMPLAINTS INTO CONTRIBUTIONS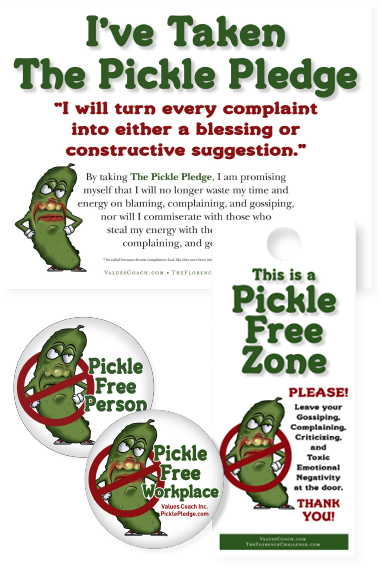 ---
Imagine your organization, or your family, as a PFZ – a Pickle Free Zone – where instead of whining and complaining people appreciated their blessings and worked together to solve their problems. Imagine how much more pleasant and positive, how much more productive and resilient, your organization could be. The Pickle Pledge helps people change their lives by learning to see the opportunity in every adversity and by replacing learned helplessness with a spirit of initiative and self empowerment. The Pickle Challenge helps you promote a more positive, pleasant and productive workplace culture.
---
EMPLOYEE DISENGAGEMENT AND TOXIC EMOTIONAL NEGATIVITY
Gallup CEO Jim Clifton says that three out of four employees are not engaged, costing our economy over $500 billion in lost productivity every year.1 In a Harvard Business Review article psychiatrist Edward Hallowell wrote that disengagement is a leading cause of personal underachievement and depression.2 Our own studies at Values Coach show that in many healthcare organizations a majority of employees do not believe that their coworkers have positive attitudes, treat others with respect, and refrain from complaining and gossiping (see illustration).3
1. Jim Clifton: The Coming Jobs War
2. Harvard Business Review, December 2010
3. Joe Tye and Bob Dent: Building a Culture of Ownership in Healthcare, Sigma Theta Tau International, 2017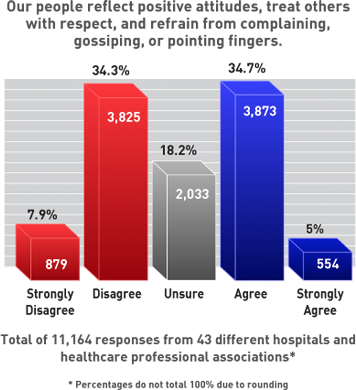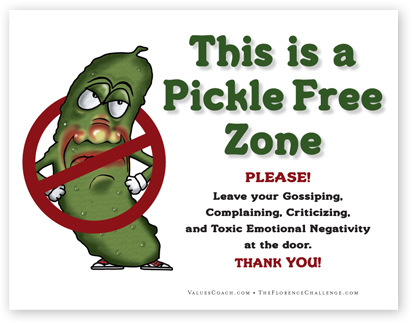 Are you tired of seeing stories about bullying, incivility, disrespect, disengagement, and "nurses eating their young" in the healthcare workplace? Are you tired of hearing about those things in your organization?
The Pickle Challenge can change all that. This lighthearted and highly effective program helps healthcare organizations foster a more positive and productive culture by helping people be personally more positive and productive. By turning complaints into contributions, people learn to transform the "poor me" mindset of the complainer into an attitude of gratitude and a "proceed until apprehended" commitment to taking initiative.
Take the Pickle Pledge and make your organization a Pickle-Free Zone!

| | | |
| --- | --- | --- |
| | We have documented record-high patient satisfaction and clinical quality indicators and have calculated a cultural productivity benefit of more than $7 million annually. | |
Russell Meyers, President/CEO
Midland Memorial Hospital, Midland, Texas

Step 1: Assess
Values Coach will administer the validated VCI-17 Culture Assessment Survey to all employees.
Step 2: Plan
You will receive Pickle Challenge Starter Kits for your "Pickle Team".
Step 3: Have Fun
Declare your hospital to be a Pickle Free Zone and launch The Pickle Challenge for Charity.
Step 4: Keep it Visible
Make The Pickle Pledge a routine part of staff and safety huddles and leadership rounding.
Step 5: Celebrate Your Success
Make a big deal about honoring contest winners. Print a giant check for your charity.
Step 6: Keep it Going
Values Coach will administer the follow-up Culture Assessment Survey and you will receive a second consulting report. Sustain your momentum by making The Pickle Pledge a strand in the fabric of your cultural DNA.
Click here to download more details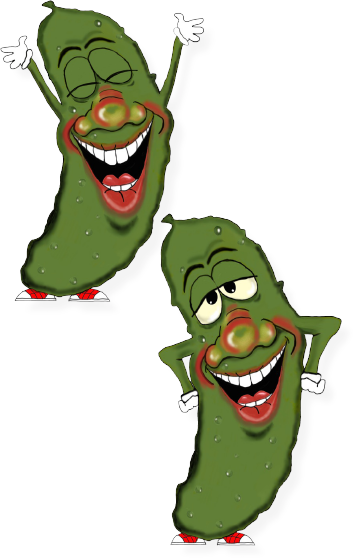 We will provide all of the resources and support that you need to make this an out-of-the-park home run success, including:
Multiple copies of The Pickle Challenge Guidebook and a Pickle Challenge Starter kit for your Challenge Project Leadership Team.
Introductory videos and video webinars for your management team to use in launching and sustaining The Challenge.
Consulting reports including data base comparisons, observations and recommendations from the pre- and post-surveys.
Initial conference call and/or Skype sessions with your executive and project teams as well as ongoing email and telephone support throughout.
Unlimited license to reproduce or adapt content and graphics for your organization and to share with your broader community.
"The DAISY Award helps healthcare organizations share stories of all the good things going on every day. The Pickle Challenge reminds people to stay positive every day. What a great combination to drive a healthy work environment for all!"
Bonnie Barnes, FAAN
Co-founder and President, The DAISY Foundation
UNLEASH A TSUNAMI OF CREATIVITY
In the weeks leading up to The Pickle Challenge for Civility you will see an incredible burst of creativity as people participate in pickle jar and pickle cake decorating contests, as they decorate their work areas, and as they engage in a whole host of fun pickle-related activities.
Employees
Your people get a more positive and pleasant work experience, which will be reflected in higher employee engagement.
Families
Employee's family members get a happier and less stressed spouse or parent coming home at the end of the shift.
Patients
Your patients get more genuinely pleasant and empathetic caregivers, which will be reflected in improved patient satisfaction survey results.
Administration
Engaged employees, restored joy in caring, and a focus on the true mission of the organization.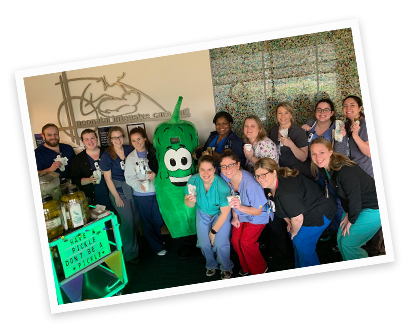 Hospital Finance
You will see a significant increase in productivity and a reduction of overtime and agency expense as all those thousands of hours that are now wasted on complaining, gossiping and other forms of TEN are converted to productive use.
Middle Managers
Your middle managers get new tools for eliminating incivility, bullying, and toxic emotional negativity from their areas.
Human Resources
Our proprietary VCI-17 Culture Assessment Survey gives you a unique perspective on how people view your culture, and consulting reports tell you how you compare and offer recommendations.
Risk Management
A toxic emotional climate prevents people from reporting problems and confronting inappropriate behaviors – and has been associated with patient harm and deaths.
Your Charity
Your designated charity gets a nice check, and you both have a beautiful photo op to share your story.
ORDER YOUR STARTER KIT NOW $95
Or contact the Values Coach office
Contact Michelle to Get Started and Learn More

Please contact us with questions or feedback.
We look forward to hearing from you!
Values Coach Inc.
1000 Jordan Creek Plaza
PO Box 490
Solon, IA 52333
Phone: 319-624-3889
Fax: 319-624-3963
Email: Michelle@ValuesCoach.com




Copyright © 2019 Values Coach Inc | All rights reserved.
1000 Jordan Creek Plaza P.O. Box 490 Solon, IA 52333-0490
Phone: 319-624-3889 Toll free: 800-644-3889 Email:
Michelle@ValuesCoach.com