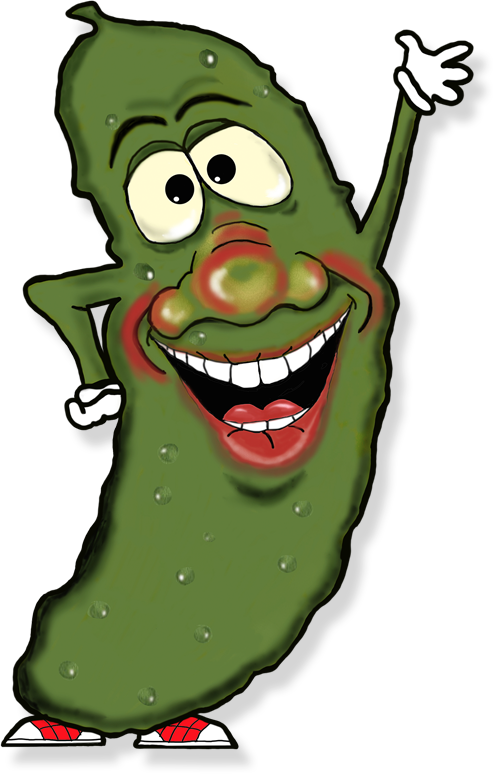 | | | |
| --- | --- | --- |
| | I got a whole new team and didn't have to change the people because they changed themselves. | |
Paul Utemark, President and CEO
Fillmore County Hospital, Geneva, Nebraska
CREATE A MORE POSITIVE CULTURE ONE ATTITUDE AT A TIME BY TURNING COMPLAINTS INTO CONTRIBUTIONS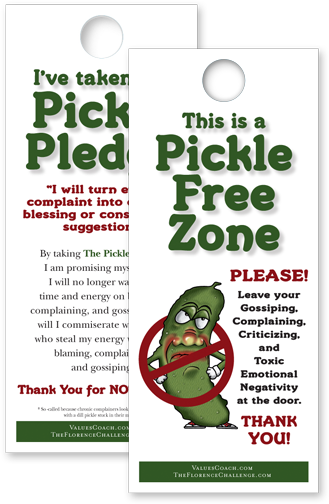 Imagine your organization, or your family, as a PFZ – a Pickle Free Zone – where instead of whining and complaining people appreciated their blessings and worked together to solve their problems. Imagine how much more pleasant and positive, how much more productive and resilient, your organization could be. The Pickle Pledge helps people change their lives by learning to see the opportunity in every adversity and by replacing learned helplessness with a spirit of initiative and self empowerment. The Pickle Challenge for Civility helps you promote a more positive, pleasant and productive workplace culture.
---
It's easy
The Starter Kit will orient your team and guide your Pickle Challenge Champions.
It's fun
You will be absolutely astonished at the blast of creative energy sparked by The Pickle Challenge for Civility: pickle jar decorating, cake making, pickle recipe cook-offs, office and hallway adornments, social media story sharing and a whole lot more. These are stressful times in healthcare and the Challenge helps to relieve stress and prevent burnout and disengagement.
It's effective
The Pickle Pledge helps people make amazing personal changes, and in many take it home to share with family members. The Pickle Challenge for Civility gives people a new perspective on their own attitudes and a new soft-touch language for confronting negative attitudes of others, while raising the bar for everyone. The changes you will see can be both immediate and long-lasting.
EMPLOYEE DISENGAGEMENT AND TOXIC EMOTIONAL NEGATIVITY
Gallup CEO Jim Clifton says that three out of four employees are not engaged, costing our economy over $500 billion in lost productivity every year.1 In a Harvard Business Review article psychiatrist Edward Hallowell wrote that disengagement is a leading cause of personal underachievement and depression.2 Our own studies at Values Coach show that in many healthcare organizations a majority of employees do not believe that their coworkers have positive attitudes, treat others with respect, and refrain from complaining and gossiping (see illustration).3
1. Jim Clifton: The Coming Jobs War
2. Harvard Business Review, December 2010
3. Joe Tye and Bob Dent: Building a Culture of Ownership in Healthcare, Sigma Theta Tau International, 2017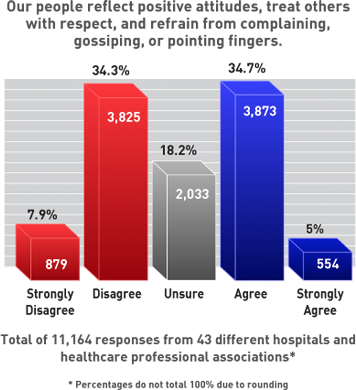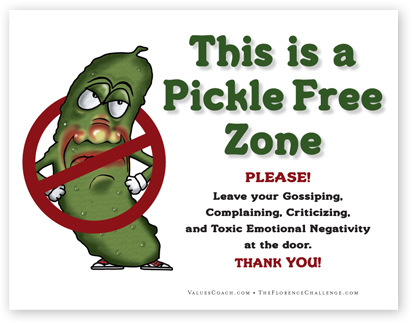 Are you tired of seeing stories about bullying, incivility, disrespect, disengagement, and "nurses eating their young" in the healthcare workplace? Are you tired of hearing about those things in your organization?
The Pickle Challenge for Civility can change all that. This lighthearted and highly effective program helps healthcare organizations foster a more positive and productive culture by helping people be personally more positive and productive. By turning complaints into contributions, people learn to transform the "poor me" mindset of the complainer into an attitude of gratitude and a "proceed until apprehended" commitment to taking initiative.
Take the Pickle Pledge and make your organization a Pickle-Free Zone!

| | | |
| --- | --- | --- |
| | We have documented record-high patient satisfaction and clinical quality indicators and have calculated a cultural productivity benefit of more than $7 million annually. | |
Russell Meyers, President/CEO
Midland Memorial Hospital, Midland, Texas

Get ready
Orient Pickle Challenge Champions with orientation videos and webinars
Start creating some buzz
Have fun!
Pickle jar decorating, cake making, hallway decorating and whatever else your people dream up to make if fun
Post pictures and stories with hashtag #PicklePledge
Encourage people to take the Challenge home with them
Be aware
Declare the organization to be a PFZ – a Pickle-Free Zone – for one week
People deposit "whine fines"
Have conversations that really matter
Bypass the cynics and pickle-suckers
Donate and celebrate
Tally the total of quarters deposited and announce results
Make a big splash with your charity donation
Have a Pickle Party!
Make it stick
Share results and share stories
Keep it visible
The Keys to Success: Make it Fun, Make it Last
WHAT'S INCLUDED IN THE PICKLE CHALLENGE STARTER KIT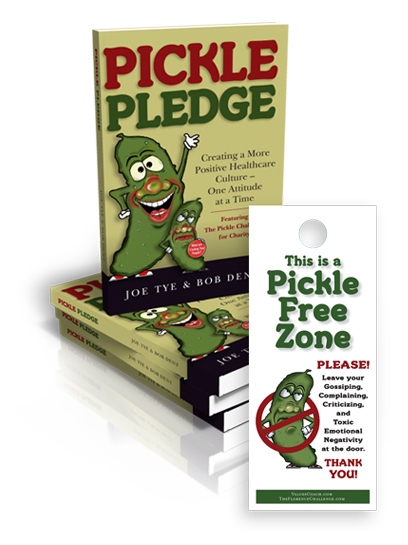 Introductory video by Values Coach CEO and Head Coach Joe Tye.
Video webinars on the personal and organizational costs of toxic emotional negativity and how to get the most from The Challenge
5 copies of the book Pickle Pledge: Creating a More Positive Healthcare Culture – One Attitude at a Time by Joe Tye and Bob Dent.*
5 Pickle-Free Zone Door Hangers and 5 Pickle-Free Person buttons.*
Cost: $95.00 (plus free shipping)
* Additional Service: Before-and-after Culture Assessment Surveys using the proprietary VCI-16 with follow-up consulting reports with comparison, observations and recommendations. Contact our office for additional details and cost.
UNLEASH A TSUNAMI OF CREATIVITY
In the weeks leading up to The Pickle Challenge for Civility you will see an incredible burst of creativity as people participate in pickle jar and pickle cake decorating contests, as they decorate their work areas, and as they engage in a whole host of fun pickle-related activities.
Employees
Your people get a more positive and pleasant work experience.
Families
Their families get a happier and less stressed spouse or parent coming home at the end of the shift.
Patients
Your patients get more genuinely pleasant and empathetic caregivers.
Administration
Your administration gets higher HCAHPS scores, employee engagement ratings, and nicer letters in the mail.
Middle Managers
Your middle managers get new tools for eliminating incivility, bullying, and toxic emotional negativity from their areas.
Human Resources
Our proprietary Culture Assessment Survey gives you a unique perspective on how people view your culture, and consulting reports tell you how you compare and offer recommendations.
Risk Management
A toxic emotional climate prevents people from reporting problems and confronting inappropriate behaviors – and has been associated with patient harm and deaths.
Your Charity
Your designated charity gets a nice check.
JOIN THE MOVEMENT FOR A MORE POSITIVE HEALTHCARE CULTURE!
organizations have taken The Pickle Challenge for Civility
,
raised for charities selected by participating organizations
,
complaints transformed into contributions
MANIFESTO FOR A MORE PLEASANT POSITIVE AND PRODUCTIVE HEALTHCARE CULTURE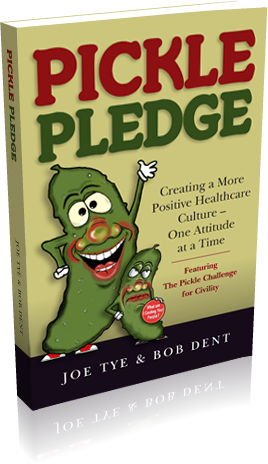 Pickle Pledge by Joe Tye and Bob Dent is a manifesto for eradicating toxic emotional negativity (TEN – as reflected in incivility, disrespect, bullying, blame-shifting, rumor mongering, chronic complaining and other harmful attitudes and behaviors), and for replacing these with a commitment to professionalism and a spirit of fellowship.
"I promise Pickle Pledge will delight and refresh you! We've employed the thought provoking, practical approaches in our organization and truly reenergized our culture of care!"
Nancy Howell Agee, RN, MSN
President and CEO Carilion Clinic
Chair-Elect, American Hospital Association
Joe Tye, CEO and Head Coach of Values Coach Inc. and author of The Florence Prescription: From Accountability to Ownership

Bob Dent, COO/CNO of Midland Memorial Hospital and President-Elect of the American Organization of Nurse Executives
ORDER YOUR STARTER KIT NOW $95
Or contact the Values Coach office




Copyright © 2017 Values Coach Inc | All rights reserved.
1000 Jordan Creek Plaza P.O. Box 490 Solon, IA 52333-0490
Phone: 319-624-3889 Toll free: 800-644-3889 Email:
Michelle@ValuesCoach.com